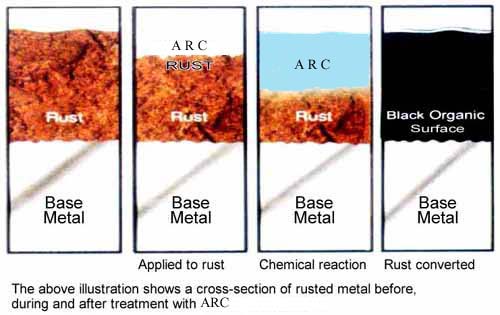 ANTI-RUST COATING --
"ARC" is a unique patented white organic copolymer latex

The ferrous surface to be converted on contact to a black, complex organic iron compound by the unique deoxygenating agent incorporated in the ARC.
Acid and lead free
Complete corrosion control
must be applied to rusted ferrous metals
Heavier the rust, darker the final colour.
Remark: Do not remove all the rust from the surface, ARC needs the rust to carry out a complete conversion process.
ARC MUST NOT BE SWALLOWED
KEEP OUT OF REACH OF CHILDREN, SLIGHT IRRITANT
NON-HARDOUS, NON-COMBUSTIBLE and DRY FILM IS FIRE RETARDANT.
Welcome to download catalog...


© Formula Construction Ltd 1998-2012 All rights reserved