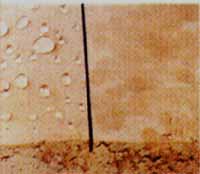 Material Sealer
Material Sealer is a water repellent, non-flammable, water-based and non-toxic. The method of application is so simple, you only need to use a sponge (or sprayer depending on the working circumstances) rubbing it on any masonry, concrete & brick surface after cleaning, wait until the surface is completely dried. Then the function of waterproofing, moisture barrier and anti-rotten exists.
Advantages
For general applications on masonry, brick, pavement etc., one application will be sufficient.If pavement is very busy, It can be apply again after the material surface was grind away arround 5mm.
Material Sealer will not alter the colour of the masonry,concrete & brick structure and other physical properties. In fact after the Material Sealer treatment, the surface is more clear and cleaner (voids being sealed off) and with the glamorous natural finish.
After the Material Sealer treatment, water and moisture cannot seep through the substrate. The substrate dampness is improved. By then the substrate will be mold-free and fungal-free (Anti- Germs).
Owing to the fact that there is a good water repellency ability on the treated surface, therefore this is actually improving the coefficient of friction between the walking materials (shoes, tyres etc.) and the treated surface. The degree of safety has been increased for the pedestrians and running vehicles. Experimental results indicate that the wet coefficient of friction is increased and therefore it is highly suitable for walking (Australian Standard)(Anti-Slipping).
The impermeable layer formed by the Material Sealer does not allow the penetration of grease, oil, acids, alkaline and salts (Ex: Coke, Joice, ketchup etc). No pitting, rutting and dusting will be occurred on the treated surface (Anti-Stain for easy cleaning).
The impermeable layer of the Material Sealer also enables easy cleanup of spills or dirt with mild soap and water.(Save Water)
Welcome to download catalog...


&copy Formula Construction Ltd 1998-2019 All rights reserved