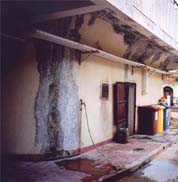 Product Introduction
CONCRETE PENETRATE SEALER (CPS)-Nano Grade)

CONCRETE PENETRATE SEALER (CPS) is a colourless, odourless, non-toxic, non-caustic, non-flammable, deep penetrating concrete treatment. Its technology is such that it replaces, and out-performs many of the existing sealers, membranes and coatings in most applications.
CONCRETE PENETRATE SEALER (CPS) -- an alkali - activated solution
Reacts with "alkali ions" to form gel-like barrier instantly
dries and turns into crystal (21-28 days) filling up all the voids on the treated surface
permanent waterproofing/moisture barrier/concrete preservation :

resists hairline cracking
retards pitting, dusting and rutting
retards penetration of grease, oil, acids and alkalines
improves mechanical strength etc.
Main Features
Penetrating deeply into the concrete, it sets up a long term pore blocking action which creates its own hydrophobic barrier to water penetration. It normally penetrates into concrete more than 20 mm.
Hardens the penetrated concrete from 6 to 8 on the Moh scale hardness.
Protects the concrete from deterioration by chlorides and airborne pollutants.
No change to the features of the concrete, i.e. slip resistance and aesthetics.
Inhibits the ingress of oils, greases and light acids.
Best Bonding between new concrete with old concrete
User and Environmentally friendly.
Has a life expectancy similar to concrete.
Welcome to download catalog...


© Formula Construction Ltd 1998-2019 All rights reserved