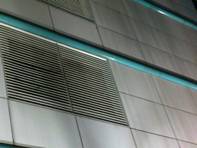 Aluminum Cladding Protection System
Product Description
Formula Aluminum Protector "FAP" solution was originated in USA in early 2008. It is a colorless, odorless, non-toxic, non-caustic, non-flammable & water-based penetrating treatment. Its technology is such that it replaces, and out-performs many of the existing PVDF coatings in most aluminum applications.
Application & Characteristics:
FAP can be applicable to the exterior wall, timber, ceiling & object in metals for building protection. After treatment, the protected layer cans be resistance on acid rain, anti- ultraviolet, water tightness, defend mildewed, light chemical raid & dusts was easy to blow off. The self clean effect purpose was achieved. No need more chemical cleaner "only water" for cleaning routine in the future.
FAP will not alter the colors of the object of metal, structure and other physical properties. In fact after the FAP treatment, the surface is more clear and cleaner (voids being sealed off).
Welcome to download catalog...

© Formula Construction Ltd 1998-2012 All rights reserved